Open September 16th - October 31st
Pumpkins • Pumpkin Cannons • Field Trips • Jump Pads • Train • Straw Maze • Slides • More!
New This Year
Pumpkin Cannons
150 mph air cannons shooting at targets! Shoot corn, pumpkins, potatoes and water bottles
Grab a Wagon &
Pick Your Own Pumpkins
any size, shape, or color. From huge to small! Orange ones, white ones…striped ones…green ones…red ones…freckled bumpy ones! Come in early, specialty pumpkins go fast!
Ride the U-Pick Red Barn
Train
So much fun!! Holds the whole family and many more!
New! Jump on Our Gigantic
Jumper Pillow!
New!
Italian Neapolitan Pizza
Two Vintage
Tractor and Wagon Hay Rides
Climb the Straw Pyramids &
Slide into the Corn Pit
Feed Beautiful
Pheasants and Chickens
New Valet Service
Let our valet load your pumpkins for you!
Create Memories and Traditions
There's a little fun for everyone at U-Pick Red Barn. Create memories and traditions with your family…from picking your own pumpkins to jumping in the corn pit to going on a hay ride to getting lost in the maze…and of course, riding the train! We hope that you'll come join us this fall at Eastern Idaho's best pumpkin patch!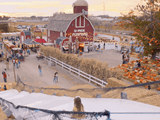 How it Started
In 2006, cousins McNeil Walker (10 years old) and Chase Walker (11 years old) started their own pumpkin patch across from the zoo at Tatuphus Park in Idaho Falls.
Over the years, their small business venture turned into a fairly large operation. In April 2016, McNeill, 21-year-old Idaho Falls native, was killed in a crash. McNeil had a big smile, was friends with everyone he met, and had a kind heart.
Learn more about McNeil and why the Red Barn means so much to us.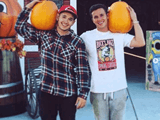 Come and see us!
Purchase your activities wristbands online today!
You can purchase standard or unlimited access wristbands for day-use or as a season pass in our online store today!
To buy pumpkins, NO ENTRANCE FEE. Wrist bands required for activities only!