How it began!
As young boys, cousins McNeil Walker (10 years old) and Chase Walker (11 years old) started their own pumpkin patch across from the zoo at Tatuphus Park in Idaho Falls. There was an old red barn ready to literally fall over with the next wind storm. We found an old wise builder, Gerald Beazer, to straighten it up. He saved the barn and restored it to its vintage state. Chase and McNeil decided to plant pumpkins and let people come and pick their own. In our trusting honesty, we built a small replica barn as a bank for people to put their money into. With the darling red barn and the opportunity to pick your own pumpkins, the name U-Pick Red Barn was born.
Year one, we had two acres and sold a few pumpkins. The next year, we had three acres and sold every single one. Even the ugly pumpkins. The next year, we added 6 more acres and almost sold them all. 
The next year, we added a trackless authentic-looking rail road train that held 15 kids…and we sold rides for $2/ride. Kids stormed the train. We sold every pumpkin. As the two boys added activities to enhance the experience, the popularity grew.
Chase and McNeil were known for the patch.
The train became so popular that we built an identical one, holding 50 kids and big enough for adults too. We earned our own money for school, and Latter-Day Saint missions, and later…college. It was a hobby that taught us about working, a payroll, and taxes… at a very young age. We learned communication skills, bargaining skills, and the responsibility of a thriving business. Literally hundreds and hundreds of families started making it a tradition to come to the U-Pick Red Barn.
Soon, the barn was raising nearly 20 acres of the best and biggest pumpkins in the country, and you could come and pick any ones your heart desired. Any 3 for $20. Some people would need three wagons just to get three pumpkins to their car! Others wanted smaller options for carving. Some wanted variety for decorating.
The U-Pick Red Barn is the most incredible experience you can have with your kids and grandkids. Bus-loads of kids come from pre-schools and daycares annually. It's an experience never to be forgotten.
Then, we had a tragedy.
McNeil was killed while driving his tractor home from the big potato farm to the pumpkin patch. It's been devastating. At first, it was hard to go on; but then realizing how much MnNeil loved seeing family after family loving their experience, building memories and having fun at the U-Pick Red Barn, we knew we had to keep the business going. So today, we are doing it in large part in McNeil's name and dream. Luckily, we have Chase, one of the original partners, to keep it going and providing the unforgettable traditions. Chase and McNeil were best friends, cousins, and successful partners who became self-reliant while building a business and building lifetime memories for families now and for generations to come.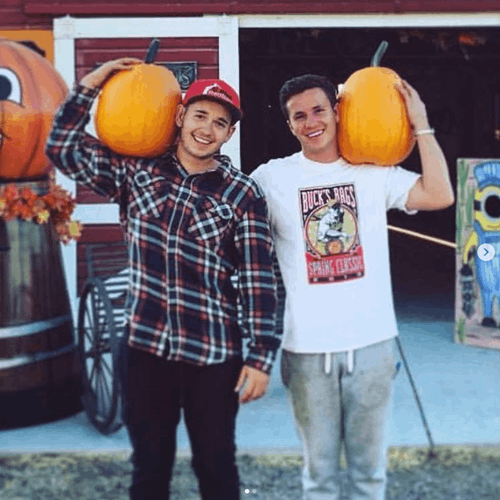 Now that's our story, and we are sticking with you. Stick with us and we will build memories money can't buy.
Our mission is to keep McNeil's vision alive. His dream was that the U-Pick Red Barn would be a place where families can gather together and enjoy fall traditions. We hope you leave our pumpkin patch with memories that will last a lifetime.