This is an original barn built in the 1930's. Come see the inside restored, the original antique stove that warms it & then climb up in the loft & see what's waiting for you there!
New This Year
Pumpkin Cannons
150 mph air cannons shooting at targets! Shoot corn, pumpkins, potatoes and water bottles
Grab a Wagon &
Pick Your Own Pumpkins
any size, shape, or color. From huge to small! Orange ones, white ones…striped ones…green ones…red ones…freckled bumpy ones! Come in early, specialty pumpkins go fast!
Ride the U-Pick Red Barn
Train
So much fun!! Holds the whole family and many more!
New! Jump on Our Gigantic
Jumper Pillow!
New!
Italian Neapolitan Pizza
Two Vintage
Tractor and Wagon Hay Rides
Climb the Straw Pyramids &
Slide into the Corn Pit
Feed Beautiful
Pheasants and Chickens
Come and see us!
Purchase your activities wristbands online today!
You can purchase standard or unlimited access wristbands for day-use or as a season pass in our online store today!
To buy pumpkins, NO ENTRANCE FEE. Wrist bands required for activities only!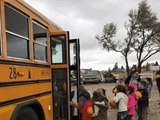 U-Pick Red Barn offers field trip opportunities for Pre-School, Grade School,  and Church groups. Each child receives:
• 1 SMALL PUMPKIN
• 1 TRAIN RIDE
• UNLIMITED OBSTACLE COURSES
• UNLIMITED JUMP PILLOWS
• UNLIMITED MASSIVE SLIDES
• KITTENS
• HALLOWEEN MOVIES
• COLORING PAGE
• AND MORE!
They Also Get To Feed The Chickens And Pheasants For Only A Quarter. Can't Beat That!
FIELD TRIPS MUST BE SCHEDULED AND PREPAID 
Pricing: $5.00 per child 
Chaperones: FREE 
Pay online! 
Hungry? Grab a snack inside the Barn! 
ITALIAN NEAPOLITAN PIZZA!!
HOT DOGS & NACHOS…YUM!
OUR FAMOUS HOMEMADE U-PICK REDBARN CARAMEL CORN (AND OTHER FLAVORS). YUM!
HOT MINI DOUGHNUTS MADE IN THE BARN. ADD A DRIZZLE OF CARAMEL! IRRESISTIBLE!
OUR VERY OWN PUMPKIN HONEY…COME EARLY, IT SELLS OUT FAST!
JUICE, WATER AND SODA